TESTING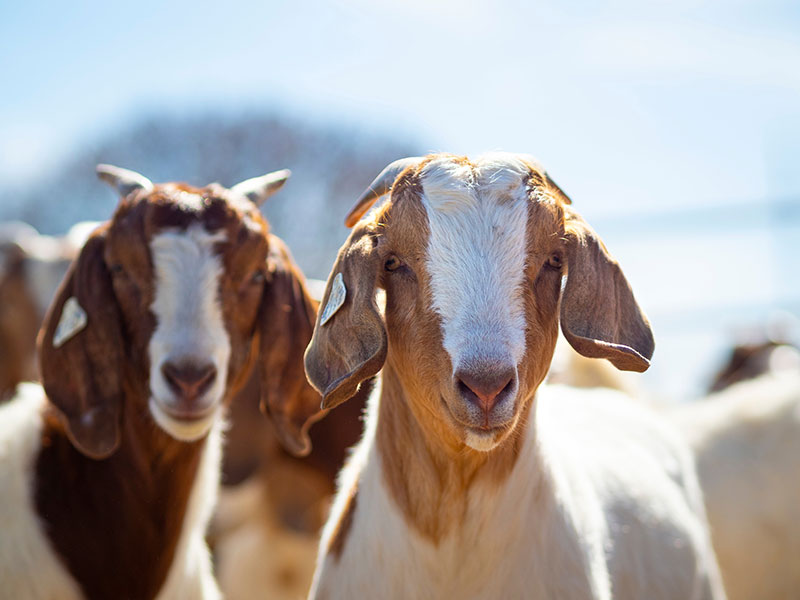 Small ruminants (goats and sheep) represent a significant and growing segment of livestock production in Oklahoma. As of January 2021, Oklahoma ranked 4th in the nation in small ruminant production, raising 79,000 meat goats and 51,000 sheep.

The small ruminant industry is underserved by veterinary services, due to the shortage of veterinarians in rural areas and lack
of small ruminant expertise among veterinarians. OADDL offers a wide range of diagnostic tests for small ruminant producers. Appropriate use of laboratory tests will improve animal health and increase the producer's bottom line through increased production.
Testing Options
Small Ruminant Biosecurity Serology Panel
(includes CAE/OPP, Caseuous lymphadenitis and Johne's)
1 ml of serum or a red top tube with 3-5 ml of blood
1-10 samples: $35
> 10 samples: $30
Pregnancy Testing
1 ml of serum or a red top tube with 3-5 ml of blood
1-5 samples: $9
> 5 samples: $4.50
Bacterial and Fungal Cultures
(swabs, feces, tissues)
Aerobic culture: $36.50
Anaerobic culture: $38.50
Clostridium culture: $12
PCR Testing
Johne's PCR: $48
Parasitology Testing
(2-5 g of feces)
Fecal Egg Count
McMaster method (sensitivity level 25 EPG):
1-10 samples: $18
>10 samples: $15
Wisconsin method (sensitivity level 1 EPG):
1-10 samples: $25
> 10 samples: $21
Centrifugal Fecal Flotation
1-10 samples: $18
>10 samples: $15
Fecal sedimentation (detection of trematode eggs (Flukes) such as Fasciola hepatica):
1-10 samples: $32
> 10 samples: $25
Baermann method (detection of live lungworm larvae):
1-10 samples: $18
> 10 samples: $15

Centrifugal fecal flotation & Baermann combo:
1-10 samples: $32
> 10 samples: $30

Centrifugal fecal flotation & Sedimentation combo:
1-10 samples: $36
> 10 samples: $32