TESTING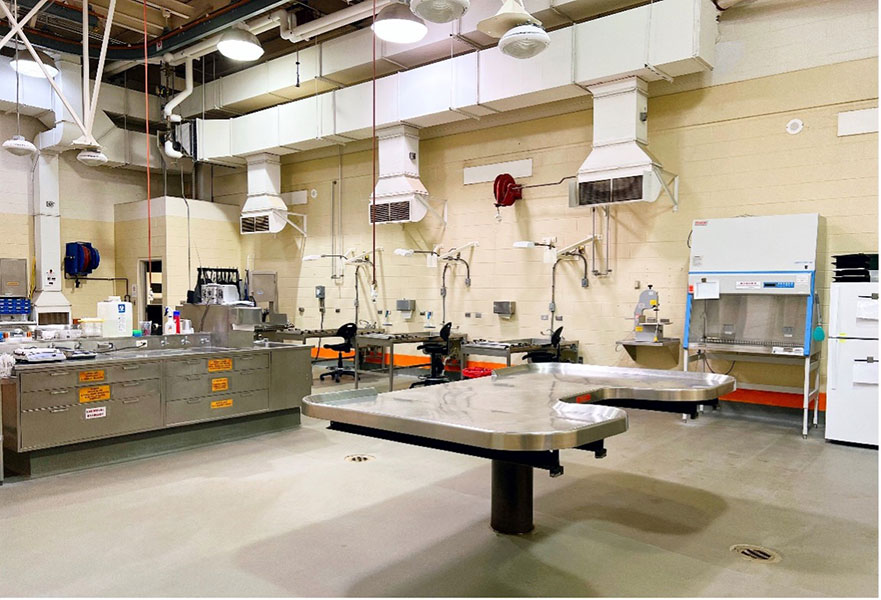 For best results, animals should be submitted as soon as possible after death to avoid autolysis (tissue breakdown). If there will be a delay in submission, animals should be kept cold (not frozen). Freezing may be considered if the body cannot be maintained in a refrigerated state. However, freezing may delay testing and can affect specimen quality due to freezing artifacts.
A completed OADDL submission form must accompany the animal. Necropsies are typically performed within hours of submission, so having all the information at the time of submission is vital to our investigation. A brief history (e.g., duration of illness, clinical presentation, feed/husbandry changes, new animals, treatments, and previous submissions) within the submission form provides pathologists relevant information regarding the demise of the animal and will aid in test selections. Printouts of entire medical records are acceptable (as supplemental documents) but should never replace a brief collective history within the official submission form.
Submitters have an option for disposition of remains. The option must be selected at the time of submission. Routine disposal fees are based on the animal's weight. Private cremation (with return of ashes) is available through third-party crematory services. Animals identified for private cremation will be held for approximately two weeks following submission. The submitter is responsible for making arrangements with a crematory. The crematory will pick up the remains at OADDL. For biosafety reasons, OADDL will not release remains back to the submitter.
Necropsy services include an external exam followed by a detailed evaluation of internal organs, structures and histopathology (if warranted) with the goal to determine the cause of death. These services are performed under supervision of board-certified pathologists. Removal and examination of the spinal cord may also be performed at an additional charge.
Ancillary testing may be recommended by the pathologist to diagnose bacteriological, viral or toxic causes of death. These tests will incur additional charges.
Results will be reported via email as they become available. Gross findings (identified by visual appearance only) are typically available within three business days. Cases requiring ancillary testing will take longer.
OADDL's role is limited to diagnostics. You are encouraged to work with your veterinarian on interpretation of necropsy findings and determining the best route(s) of treatment for herd health situations.